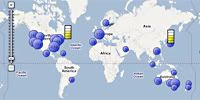 Riding the Metro-North train into New York City one morning I spied a fellow commuter reading the New York Times. My attention was drawn to an AT&T Wireless ad for the iPhone. "Half the Price. Twice the Speed!," it proclaimed.
Yeah right, I said to myself as I turned my attention back to the screen of my Jesus phone that was still struggling to download a page over 3G even though I had full bars. So much for walking on water, I was having a better experience when I was on the EDGE with iPhone 1.0.
The slow experience has been widespread, and to be honest I haven't personally noticed any improvement from Apple's 2.02 firmware upgrade.
In this vain a couple of articles caught my attention this morning.
First the folks at Wired have come out with
a nifty study
that assesses the speed of various 3G networks worldwide. Wired gathered data from 2,636 participants (1,638 were in the United States). They found that European T-Mobile users reported the fastest 3G Download Speeds: 1,822 Kbps on average. In the U.S. AT&T was puttering along at 990 Kbps.
For those who are more visually minded Wired teamed-up with Zeemaps to create a Google Maps mash-up to show their respondents in clusters and provide signal strength indicators by geography. (The map has been so popular that it's taken down Zeemaps).
The problem it seems is not device related.
All Thing :D
citing a
Reuters story
reported this morning that the Blackberry Bold is experiencing similar sluggish speeds on the AT&T network. According to Citi Investment Research analyst Jim Suva, "There were a few occasional high-speed signal-dropping problems, especially on streets with tall buildings. The handset's EDGE network capability immediately picked up the signal, but at slower Internet speeds."
Still, Suva's analysis seems qualitatively based. A
more scientific analysis
is offered by Sweden's Bluetest which sells test chambers for wireless devices. In comparing the antennas of the iPhone, Nokia N73, and the Sony Ericsson P1. The test found that there was substantially no difference in the quality of reception between the devices.
The problem thus seems network based. Watch out AT&T! The sharks will surely circle.